DASUNG 13.3" Paperlike E-ink Monitor
DASUNG's latest E-ink Monitor, equipped with Touchscreen and Front-light. The fastest E-ink monitor. - 13.3-size large E-ink screen - Fast as LCD - Displays like real paper - Maximum resolution of 2K - Work with any external device via HDMI - Support PC/ Mac/ iPhone/ iPad - Protect Your Eyes
All-New DASUNG Paperlike E-ink Monitor — Now with Touchscreen and Front-light
Why we all need a Paper-like E-ink Monitor

■ Do your eyes hurt when you look at a computer screen?  
■ Do you have children or elderly relatives who are sensitive to the glare?      
■ Are you an office worker who stares at a computer 10 hours a day?
In the information age, we look at our computers and smartphones for more than 12 hours a day. The LCD displays greatly impact our eyes and overall health. Bright light and screen flash can cause dry eyes, inflammation, nearsightedness, dizziness and headache, which is called Computer Vision Syndrome. We urgently need a paper-like monitor to save our eyes.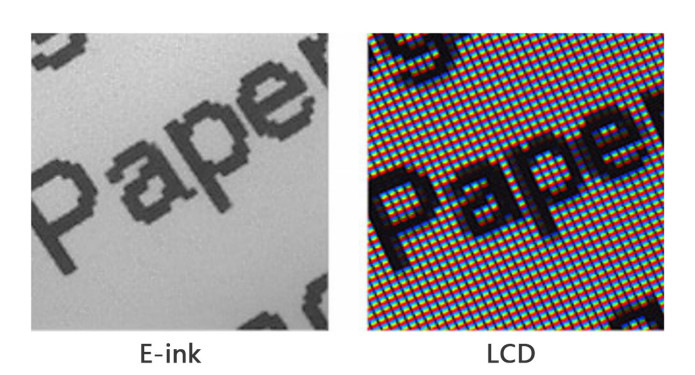 DASUNG's E-ink monitor has retina display, high contrast, fine quality, no flashing and no glare. It's the perfect eye-saver.
Unlike emissive display like LCD where backlight is projected toward your eyes, E-ink display reflects ambient light from the environment. Therefore, E-ink feels much like real ink and paper eliminating eyestrain and glare. 
We are DASUNG
The Inventor of E-ink Monitor

DASUNG is an innovative group founded in March 2014 by science fiction writer Dong Gong, Dr. Ray Chen, and Hiro Gong. Our team members come from China Aerospace Corporation, Chinese Academy of Sciences, MIT, Belarusian State University, and other top academies.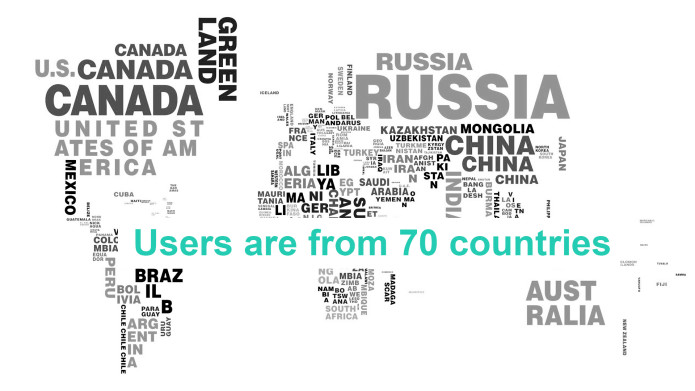 In the last 5 years, DASUNG has developed and launched multiple generations of Paperlike E-ink Monitor that users in 70 countries can't live without. And we never stop innovating!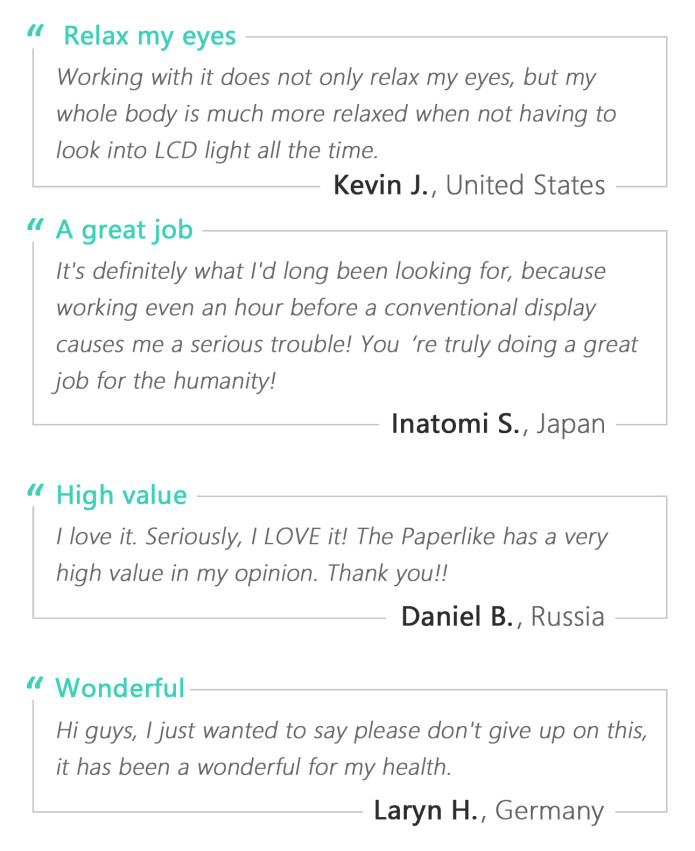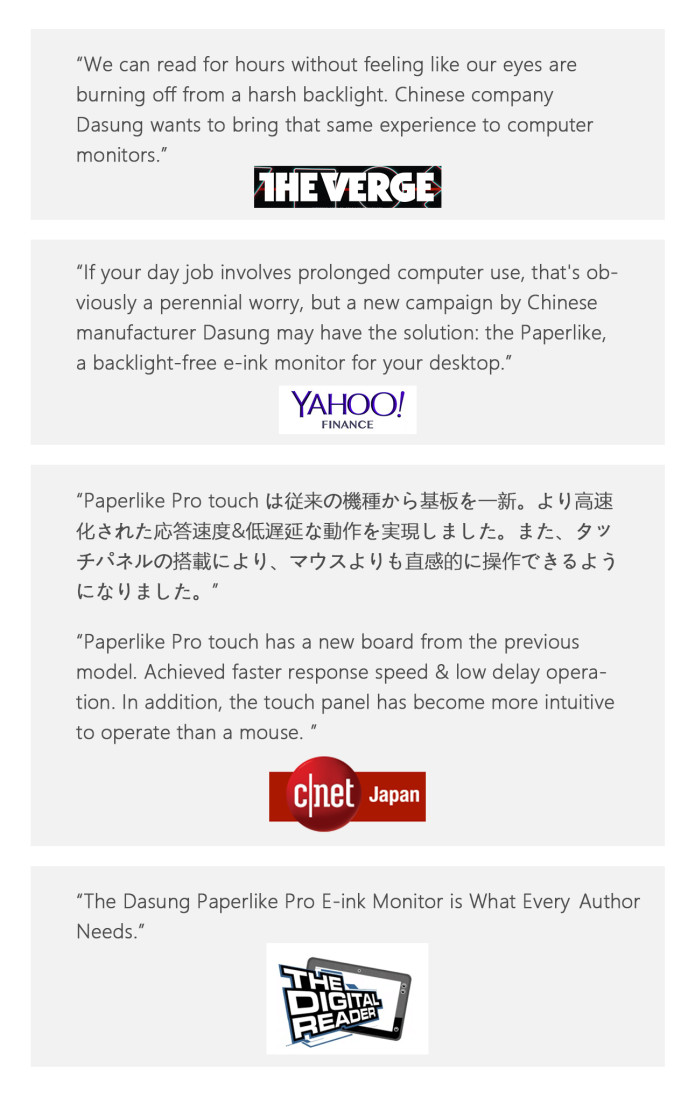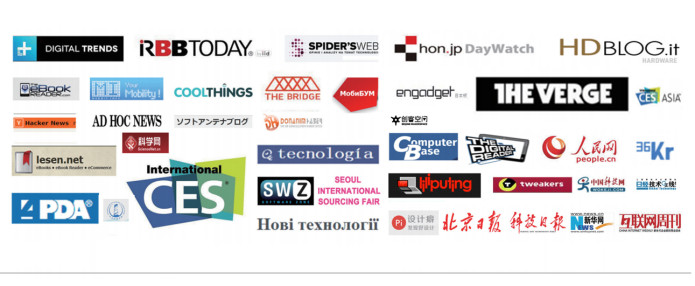 Paperlike, the World's First E-ink Monitor invented by DASUNG, 2014.
Paperlike Pro, the World's First E-ink Monitor with HDMI, developed by DASUNG, 2017.
Paperlike 3, High resolution of E-ink monitor, 2017.
Paperlike Pro-FT & Paperlike HD-FT, the World's First E-ink Montior with Front-light & Touchscreen, 2019.  
13.3" Large E-ink Display
Maximum 2K High-Definition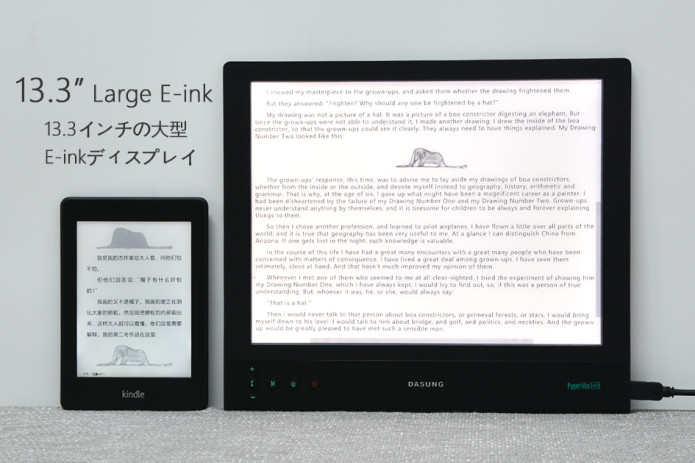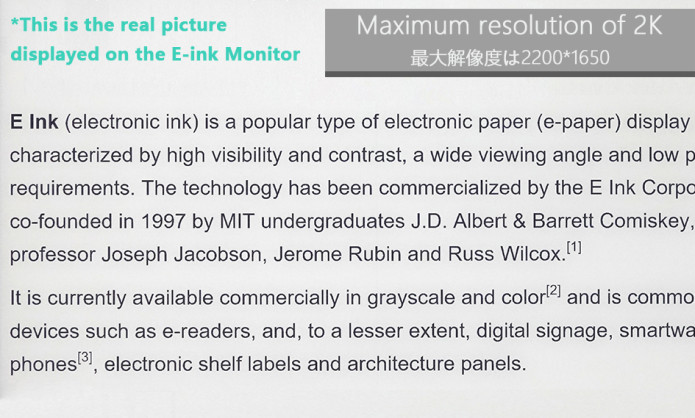 Powerful
Fast Speed & Minimal Delay

New Paperlike E-ink monitor is equipped with DASUNG Turbo 2019, our latest high-speed refresh technology.
We have invested vigorously in redesigning video-stream signal processing, storage scheduling, and E-ink drive. We are proud to say the new Paperlike Pro Touch outperforms all other E-ink monitors in response rate.
You can do so much more with the new Paperlike Pro Touch, web browsing, typing, coding, reading, seamlessly playing videos… It is as fast as LCD screen. 
Front-light
The World's First Large Size E-ink Device with Front-light

For the first time, we applied front light to large-size E-ink device. Our frontlit E-ink monitors support white light & warm light modes and adjustable brightness for all-day use.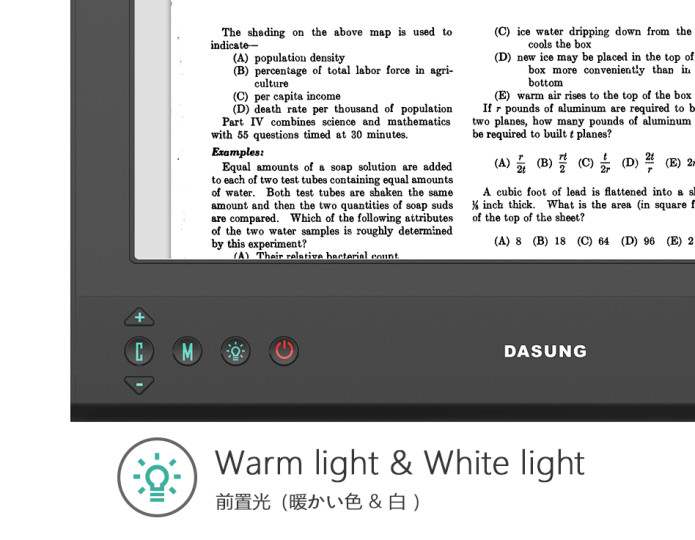 Touchscreen
The World's First E-ink Monitor with Touchscreen

Paperlike Pro-FT and Paperlike HD-FT are featured with capacitive touch screen. Use your fingers for more precise and easier operation just like an ultra-fast large tablet.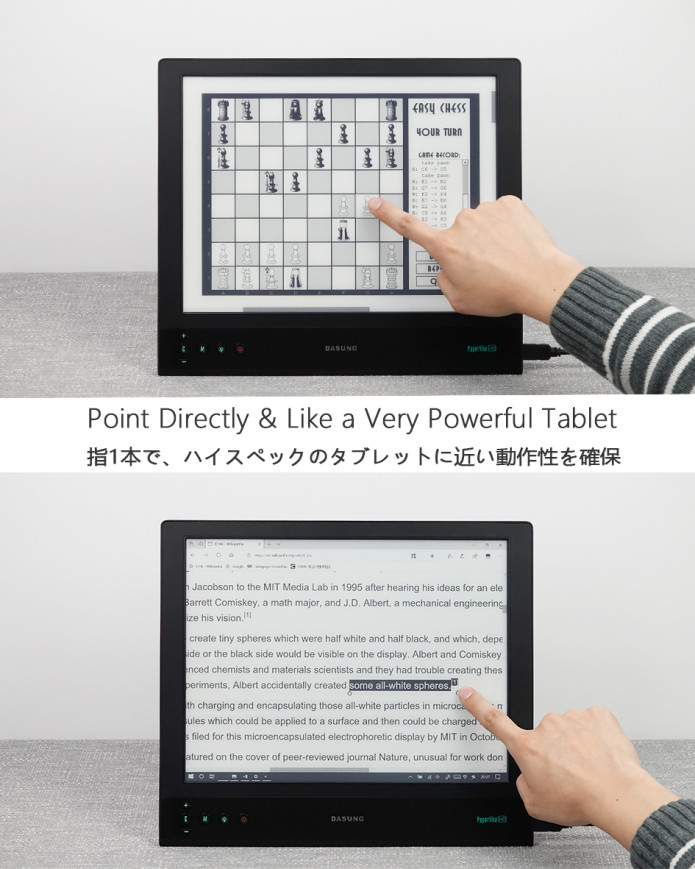 * Touchscreen only supports Windows and Linux systems (Mac, iOS does not support touchscreen)
* Paperlike Pro-F and Paperlike HD-F are two upgraded models with frontlight but without touchscreen. 
Universal
Compatible with Most Devices


Paperlike E-ink monitor can connect with any device that outputs video contents via HDMI, such as iPhone, iPad, HUAWEI P30, etc. 
Smartest
Multi-dimensional Optimization of E-ink

DASUNG is committed to optimizing the quality of E-ink for more than four years. Paying attention to every detail. Respecting each of our users. Through the cross adjustment of the three dimensions of "grayscale", "ink drop blackness" and "contrast", the speed and image quality can be optimized, which can meet your different needs in office, entertainment and learning to protect your eyes well.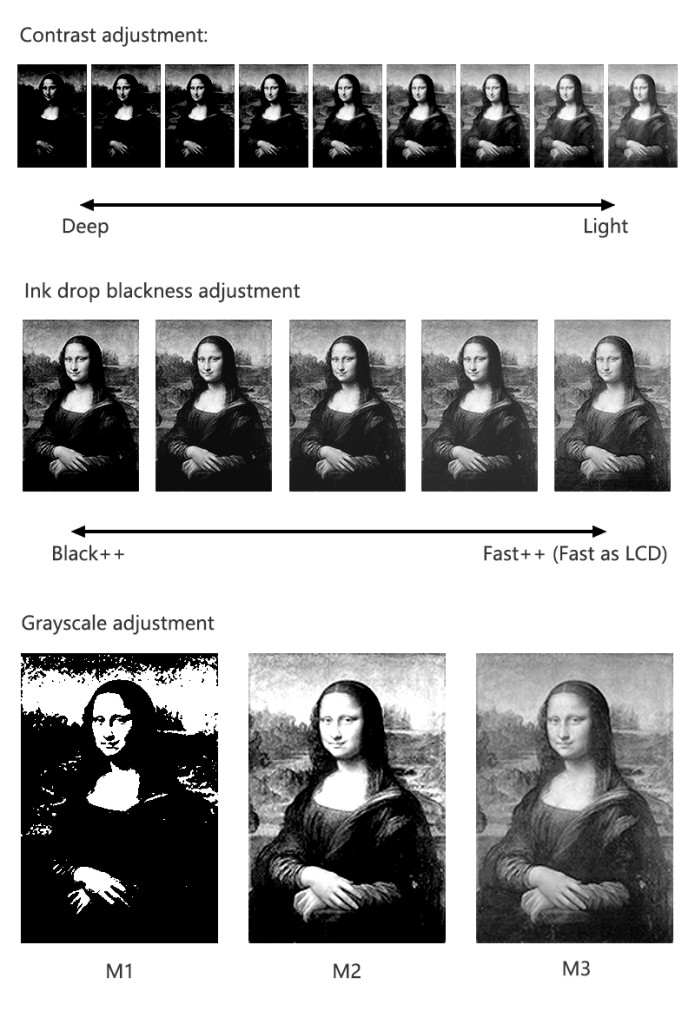 Versatile
Mirror Display or Extend Display
Vertically or Horizontally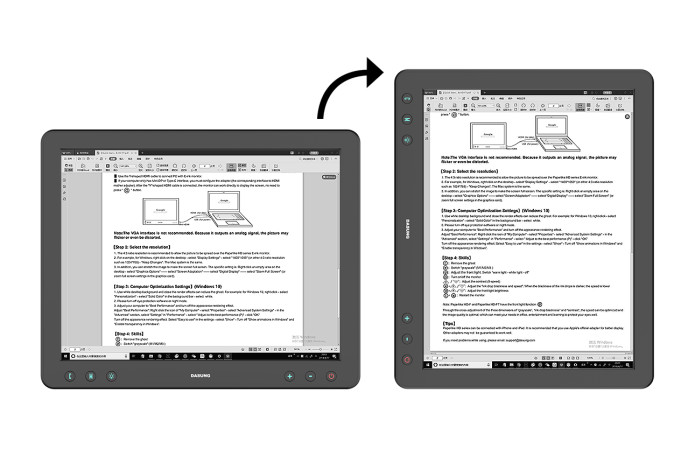 We have professional E-ink monitor with HDMI connection. It can display horizontally or vertically and mirror or extend the content on your primary computer screen