New Form of Eye Protection Device For Smartphones
Unprecedented and revolutionary new concept product. An innovative idea that brings E-ink screen up to the power of smartphones. Link perfectly mirrored smartphone screen supports reverse touch and is compatible with almost all smartphones, providing lightning-fast speed and minimal delay.
Link boasts an ultra-thin and lightweight CNC unibody aluminum shell with a minimalist aesthetic design, making it sleek and portable. Whether you're commuting, traveling, or working remotely, Link's portability makes it easy to take with you on the go. Enjoy using your smartphone in an eye-friendly way.
Why We Need E-ink Screen?
■ Do you experience eye fatigue or discomfort from staring at traditional LCD displays for extended periods of time?
■ Do you have loved ones who are sensitive to bright lights or blue light?
■ Are you an office worker who spends eight hours a day staring at a smartphone screen?
In today's information age, we spend more than eight hours a day looking at our smartphones. Traditional LCD displays can harm our eyes, causing dryness, inflammation, worsened nearsightedness, dizziness, and headaches due to bright light, flashing, and blue light. What we need is a paper-like screen that is gentle on our eyes.
E-ink technology creates a paper-like screen that reduces the fatigue and discomfort caused by traditional displays, making it an ideal solution for anyone who spends a lot of time looking at screens or is sensitive to glare or blue light.
DASUNG Link can help protect your eyes and promote better eye health, making it an essential tool for anyone who relies on technology in their daily lives. If you're tired of the feeling of staring at screens for long periods of time, consider switching to an E-ink smartphone display for a more comfortable and healthier viewing experience.
With DASUNG Turbo high-speed refresh technology, Link is powerful and fully replicates the performance of a smartphone, solving the issues of lag and slow refresh rates commonly found in other E-ink smartphones on the market.

E-ink is an exceptional display technology that reflects ambient light to provide a naturally clear image on the screen. By applying voltage to the microcapsules, it creates an image illuminated by the environment rather than backlighting. This innovative technology has many advantages over traditional displays, including reducing eye fatigue and improving readability in various lighting conditions.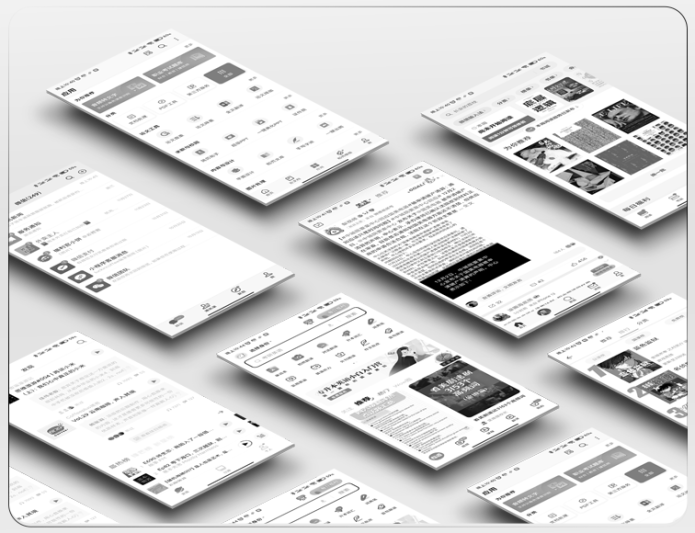 Who Need Link?
Designed for every smartphone user. Innovative and powerful.
Link is a versatile and powerful accessory designed for every smartphone user, and it is especially suitable for those who spend long hours using their smartphones, including lawyers, teachers, students, programmers, traders, writers, editors, and office workers.
In addition, visually impaired individuals such as seniors and those with dry eyes, myopia, macular degeneration, and other eye diseases can also benefit greatly from the eye-protective display technology offered by Link.
Whether you use your smartphone for work, study, or leisure, Link can enhance your experience and protect your eye health. Don't let the negative impact of traditional LCD displays hinder you.
Key Features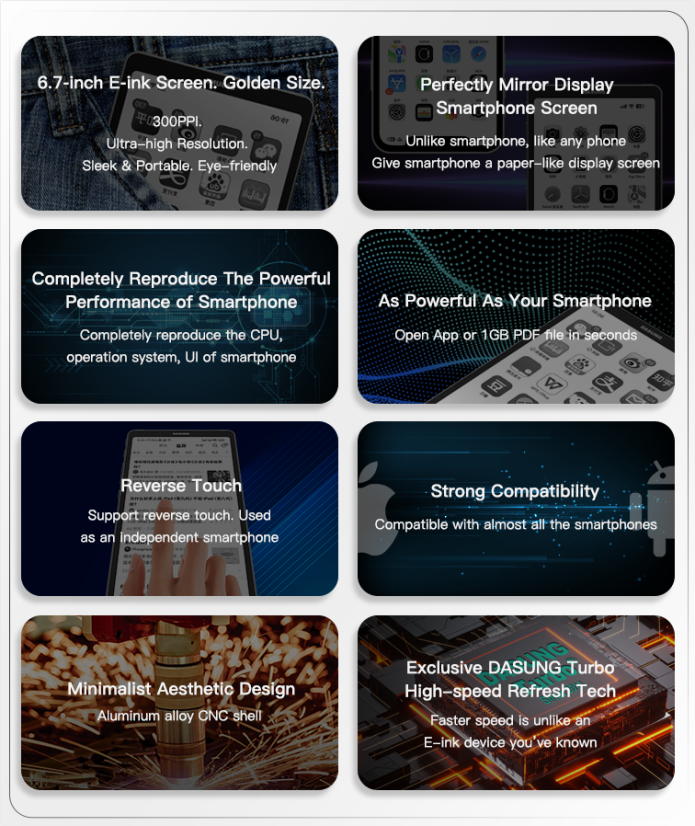 If you are sensitive to bright light or experience headaches when using LCD displays, then this is the smartphone display you have been waiting for. The DASUNG E-ink Phone Monitor: Link is more convenient and faster than ever, providing you with an incredible user experience.
6.7-inch Golden Size E-ink Screen
DASUNG Link features a gold-standard retina display in the size of a smartphone, with high contrast, excellent quality, no flicker, and no glare. It's the perfect eye protector. Link is equipped with a 6.7-inch E-ink screen. The 300 PPI high-resolution display mimics your smartphone like paper, protecting your eyes. It makes the smartphone screen display delicate as a piece of paper, allowing users' vision and thoughts to roam freely and enjoy the experience of an eye-friendly screen. You'll enjoy an incredible user experience.
Display Your Smartphone On a Paper-like Screen
Experience the ultimate viewing experience with our brand new paper-like screen - now available in Phantom Blue and Deep Space Gray. Choose between wired or wireless options, both offering the same amazing features.
Use your smartphone in a way that is friendly to your eyes, reducing eye fatigue and discomfort. Whether you're working, studying, or just browsing, our paper-like screen offers the perfect blend of functionality and aesthetics.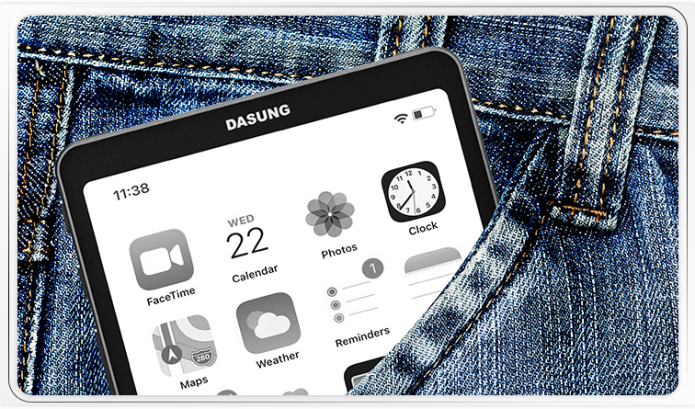 Unlike Smartphone. Like Any Smartphone
Link provides the perfect solution for anyone who wants to enjoy the benefits of a paper-like screen while still maintaining the familiarity of their smartphone. With Link, your phone's system and icons remain unchanged, so you can enjoy the same user experience that you are used to.
Our innovative technology allows you to mirror your smartphone display perfectly, so you can continue to use your favorite apps and features without any issues. With our paper-like screen, you can enjoy a viewing experience that is kind to your eyes and reduces eye fatigue and discomfort.
Experience the best of both worlds with Link - the familiarity of your smartphone combined with the advantages of our e-ink screen technology.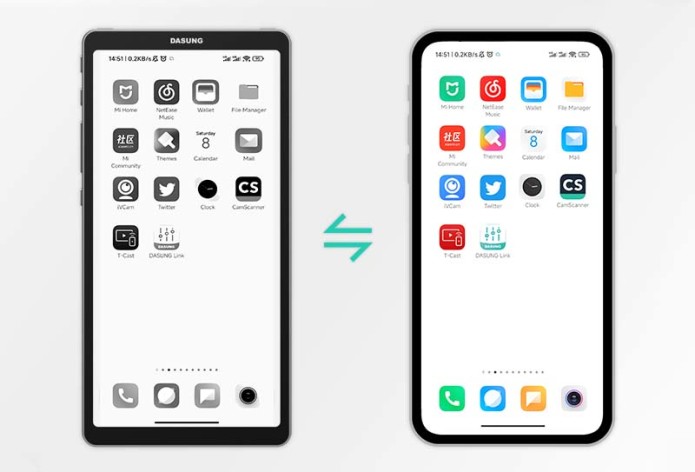 Powerful As Your Smartphone
Get the same powerful performance as your smartphone with Link. Our innovative technology allows us to completely replicate your smartphone's CPU, storage, and user interface, providing you with a seamless user experience just like before.
With Link, you can smoothly mirror your smartphone's display and open applications or large files, including 1GB PDFs, in seconds. Additionally, as your smartphone updates, Link becomes even more powerful, so you can always rely on optimal performance.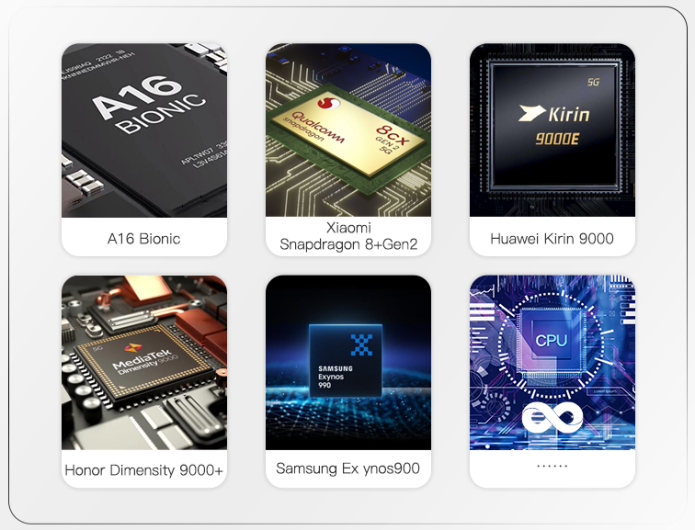 Soul Function-Reverse Touch
Like An Independent Smarthphone
Link offers a unique and innovative feature - reverse touch. With reverse touch, you can not only mirror your smartphone screen on Link, but also directly operate your smartphone on Link.
This powerful feature makes Link an independent device, allowing you to use it freely like a smartphone without constantly switching between devices. Whether you're working, gaming, or just browsing the web, reverse touch provides a seamless and intuitive user experience, making using Link more enjoyable.
So why not set aside your smartphone temporarily and give Link a try? With reverse touch, you'll have all the functions you need at your fingertips.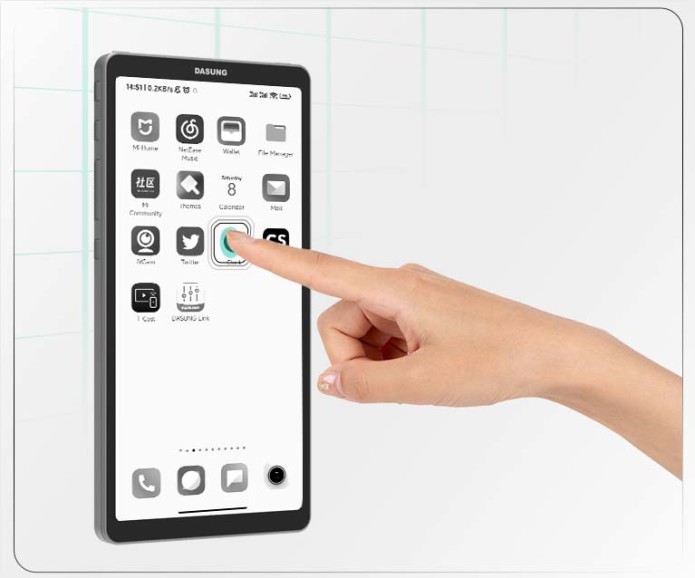 Support may vary depending on the wired or wireless version, as well as the type of phone and operating system. To make the best purchase decision, please consult the selection guide "One Picture to Understand How to Choose Link" provided below.
Exclusive DASUNG Turbo High-speed Refresh Tech
For the past 9 years, we have been committed to original innovation, focusing on developing high-speed refresh technology for e-ink displays. Our efforts have led to a significant improvement in refresh rates, enabling super-smooth mirror display of e-ink devices. We have achieved this through optimizing custom chips, as well as by restructuring functions and algorithms related to video stream signal processing, memory scheduling, and more. Our device provides an unparalleled E-ink refresh speed that cannot be found on any other e-ink device.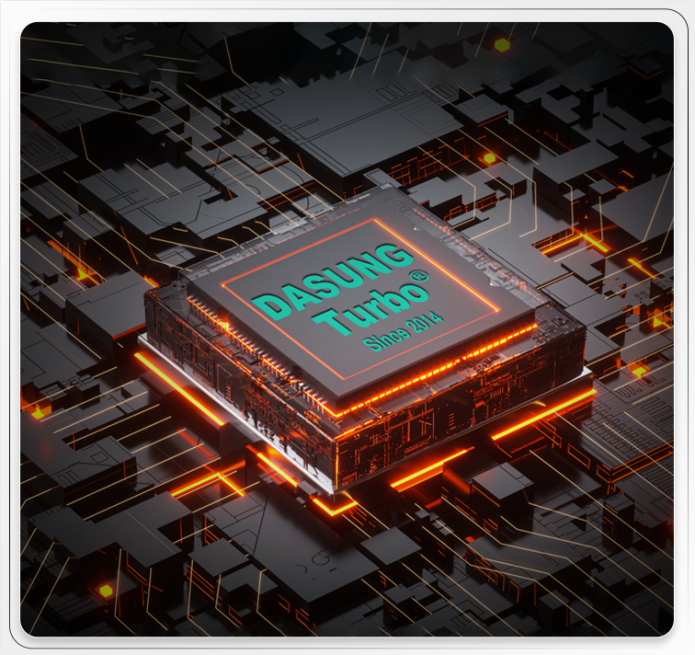 Excellent Frontlight. Fit In Every Environment
The innovative dual-light mode is designed to adapt to any environment and task. Whether you are reading in bed or working at your desk, you can adjust the color temperature and brightness according to your preference. Choose from a range of warm and cool lights to achieve the best comfort and work efficiency.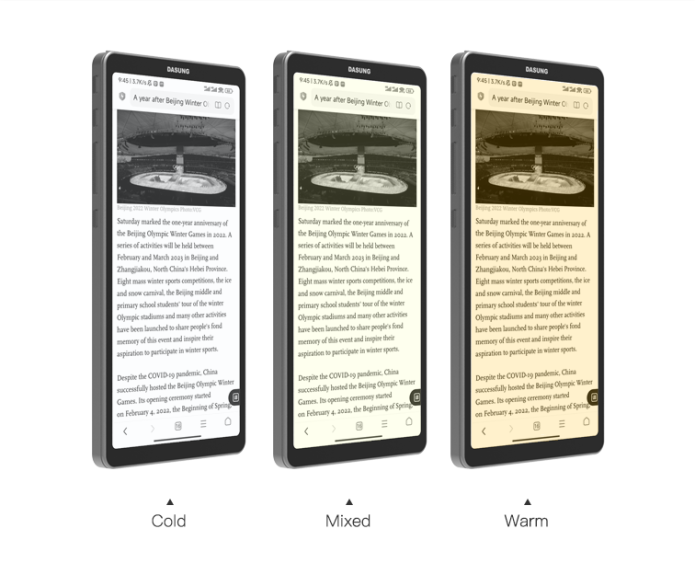 Simple & Direct Physical Buttons
With our expertise in e-ink displays, we have developed an innovative "Image Mode" that allows for image quality adjustments across three dimensions: refresh rate, contrast, and overall image quality. This feature ensures optimal speed and image quality, providing an unparalleled user experience.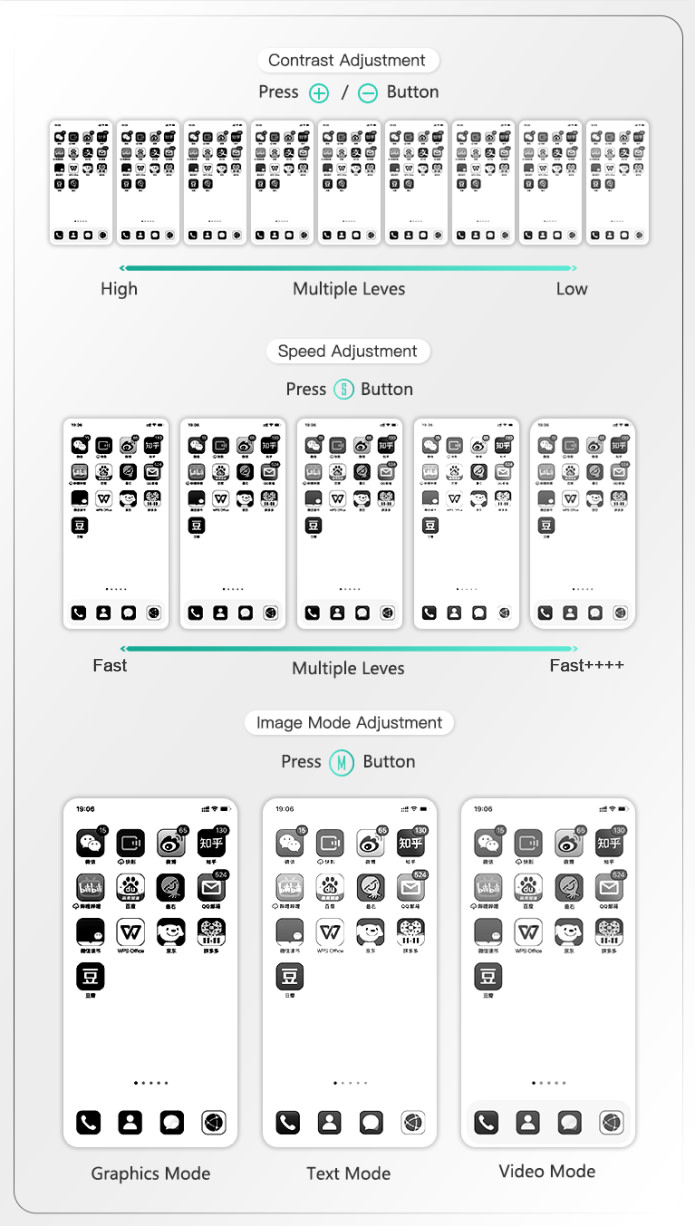 Smart Assistant App
Easily control and operate Link through its user-friendly interface. Enjoy its intelligent and practical features, including exclusive settings for different applications, timing clear ghosting. Experience the convenience and efficiency of using your smartphone through Link.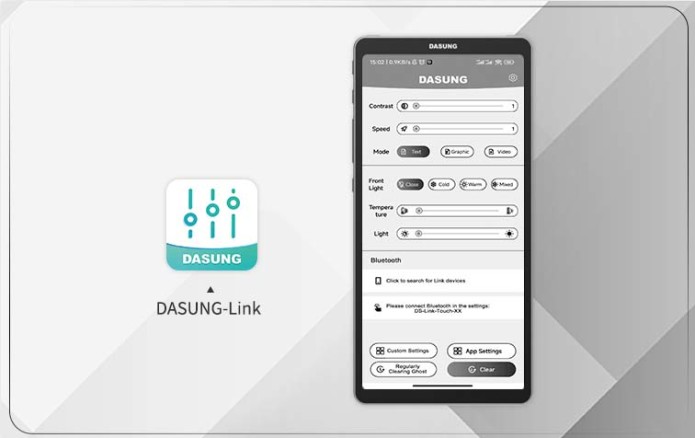 Stylish & Portable
The body of Link is made of aluminum alloy using CNC integrated molding technology, featuring a stylish, lightweight, and durable design. There are two stunning colors available for selection: Phantom Blue and Deep Space Gray.
Strong Compatibility
Link is available in both wireless and wired versions, making it compatible with many smartphones. 
Link Wireless Version
Link's wireless version comes with a 6800mAh battery base, allowing you to connect to your smartphone wirelessly. It is both convenient and cool, enabling you to use your smartphone freely in an eye-friendly way without the need for wires or cables. Also, we offer a 4000 mAh giveaway battery for early backers.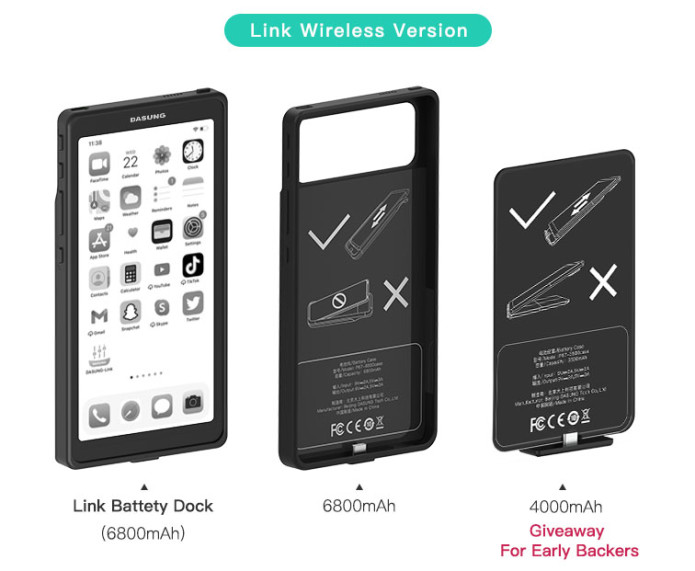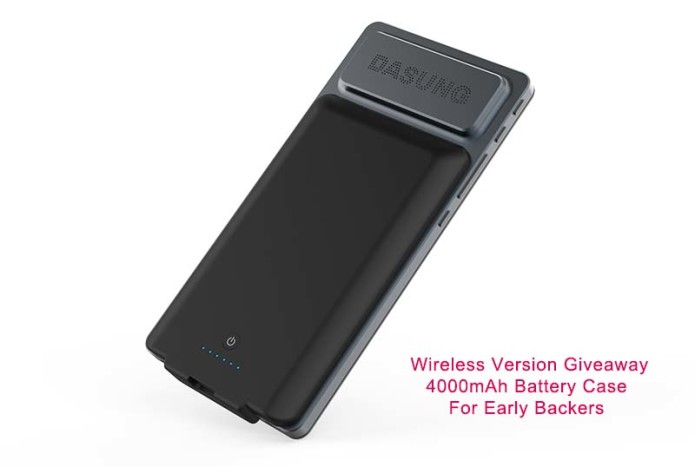 Link Wired Version
The wired version of Link can be connected to Huawei, Samsung, Smartisan, and other smartphones with video output capability via a Type-C data cable. Its body is thinner and consumes less power. It also has a specially designed "bridge power supply" function that allows the smartphone to be charged in reverse.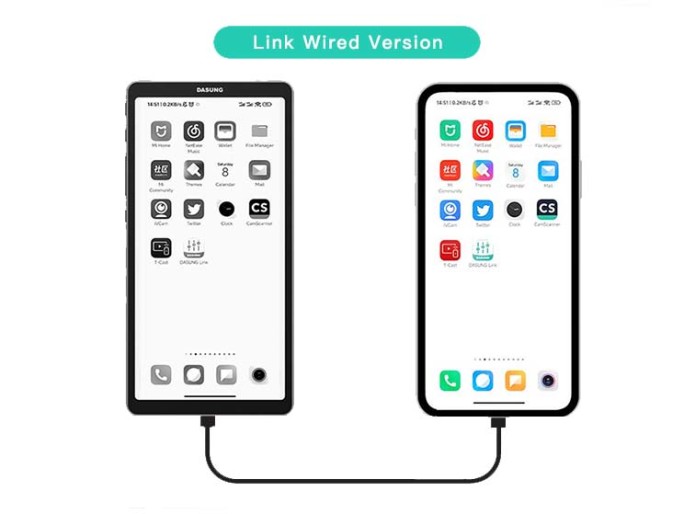 One Picture to Understand How to Choose Link

Link Wired Version Supported Smartphone Models

"Link" Your Smartphone Screen
A Paper-like Display for All Smartphone Users
Link is a powerful and innovative device that allows you to enjoy your smartphone in an eye-friendly way. Not only can you mirror your smartphone screen, but you can also operate it directly on Link, making it a standalone phone. You can browse the web, read documents, work on projects, and even watch videos on Link, just like on your smartphone. With its powerful hardware and optimized software, Link provides a smooth and seamless user experience, and its dual-light mode and adjustable brightness and color temperature make it comfortable to use in any environment. Whether you're a lawyer, teacher, student, programmer, trader, writer, editor, office worker, or just someone looking to reduce eye strain, Link is the perfect device for you.
Specifications