More about Link
Revolutionary Eye Protection Device for Smartphones
Introducing a groundbreaking concept – a new era in eye protection. Experience the power of E-ink screens seamlessly integrated with smartphones. Meet "Link" - the innovation that elevates smartphone usage. Mirroring the smartphone screen flawlessly, Link supports reverse touch, ensuring compatibility with almost all smartphones. Unleash lightning-fast speed and minimal delay.
Sleek, Portable, Unmatched Design
Link dazzles with an ultra-thin, lightweight CNC unibody aluminum shell. Its minimalist aesthetic design blends beauty with functionality, resulting in a sleek and portable device. Whether commuting, traveling, or working remotely, Link's portability ensures it's always by your side. Elevate your smartphone experience while safeguarding your eyes.
■ Tired Eyes? Meet the Solution!
In our digital age, endless screen time strains our eyes. Staring at traditional LCD displays for hours can lead to discomfort, dryness, and headaches. But what if there was a way to ease the strain?
Introducing DASUNG Link - the revolutionary answer to digital eye fatigue. Whether you're glued to your smartphone or a screen at work, Link's E-ink technology offers a paper-like screen that's kinder to your eyes. Say goodbye to harsh glare and blue light discomfort.
Why Choose DASUNG Link?
✓ Gentle on Eyes: E-ink's paper-like screen minimizes eye fatigue and discomfort. ✓ Healthier Screen Time: Ideal for screen enthusiasts and those sensitive to glare and blue light. ✓ Essential for Tech Lovers: Elevate your eye health while staying connected. ✓ Powerful Performance: Experience lag-free E-ink with DASUNG Turbo high-speed refresh technology.
Upgrade your screen experience with DASUNG Link. Protect your eyes, embrace comfort, and embrace the future of eye-friendly technology.

E-ink, an extraordinary display technology, utilizes ambient light to naturally illuminate its screen. Instead of relying on backlighting, it employs voltage on microcapsules to generate images. This innovation offers numerous advantages over conventional displays, such as alleviating eye strain and enhancing readability across different lighting settings.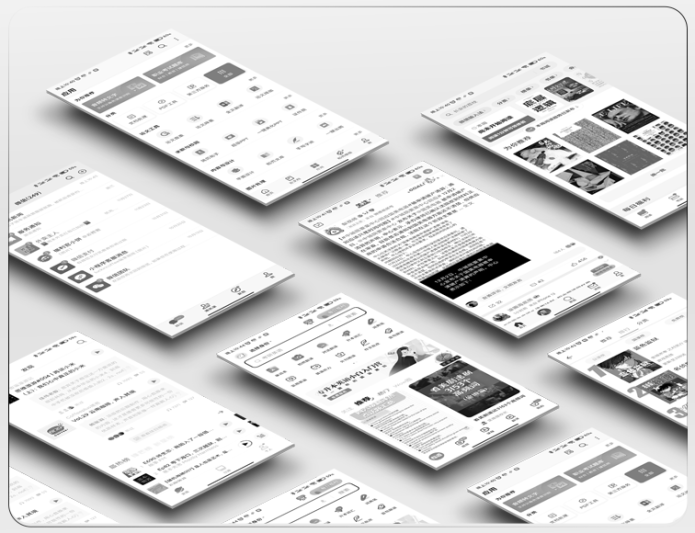 Who Benefits from Link?
Innovative and Empowering for All Smartphone Users
Link is a versatile and empowering accessory crafted for every smartphone user. It's particularly beneficial for individuals with extensive smartphone usage, including professionals like lawyers, teachers, students, programmers, traders, writers, editors, and office workers.
Furthermore, Link's eye-protective display technology offers significant advantages to those with visual impairments, such as seniors and individuals dealing with dry eyes, myopia, macular degeneration, and other eye conditions.
Whether your smartphone use revolves around work, study, or leisure, Link elevates your experience while safeguarding your eye health. Say goodbye to the downsides of traditional LCD displays.
Key Features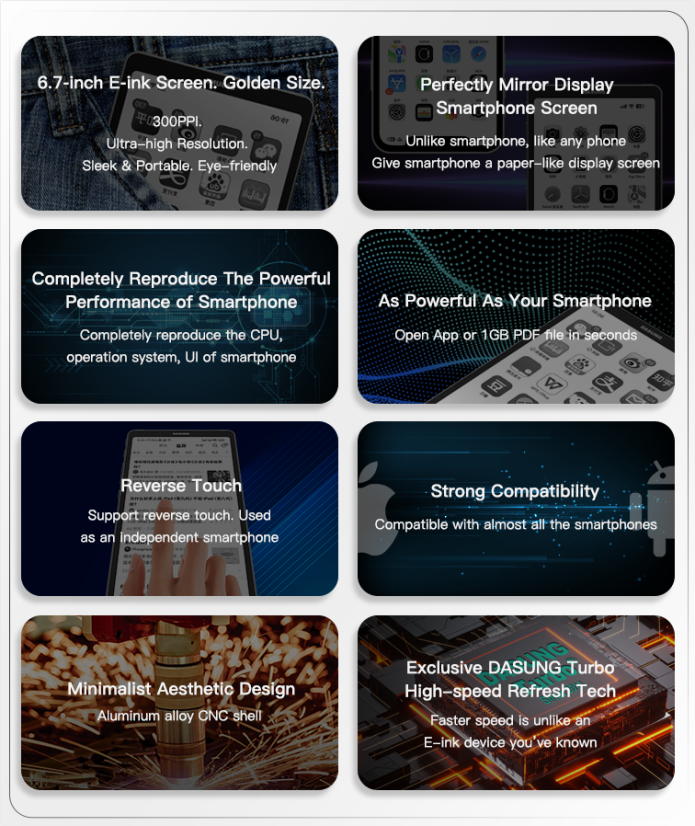 If you're sensitive to bright light or often suffer from headaches while using LCD displays, your solution is here. Introducing the DASUNG E-ink Phone Monitor: Link. It's not only incredibly convenient but also faster than ever, promising an exceptional user experience tailored to your needs.
6.7-inch Golden Size E-ink Screen
DASUNG Link: Your Ultimate Eye Protector
With its gold-standard retina display, high contrast, impeccable quality, and absence of flicker and glare, it's your perfect solution for eye strain. The 6.7-inch E-ink screen at 300 PPI resolution offers a paper-like experience, safeguarding your eyes and allowing your vision to roam freely. Whether in Phantom Blue or Deep Space Gray, wired or wireless, this screen offers an incredible user experience for work, study, or leisure, ensuring your eyes stay comfortable and fatigue-free. Discover the future of smartphone screens with DASUNG Link.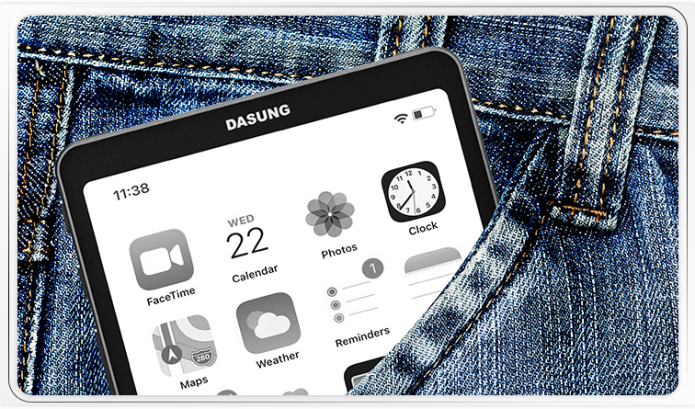 Unlike Smartphone. Like Any Smartphone
Link offers the ideal solution for those seeking a paper-like screen experience while keeping the familiarity of their smartphone intact. Your phone's system and icons remain untouched, ensuring a seamless user experience you're accustomed to.
Our innovative technology flawlessly mirrors your smartphone's display, enabling uninterrupted use of your favorite apps and features. With our paper-like screen, your eyes are treated to a comfortable viewing experience that minimizes fatigue and discomfort.
Embrace the perfect blend of your smartphone's familiarity and our e-ink screen's advantages with Link.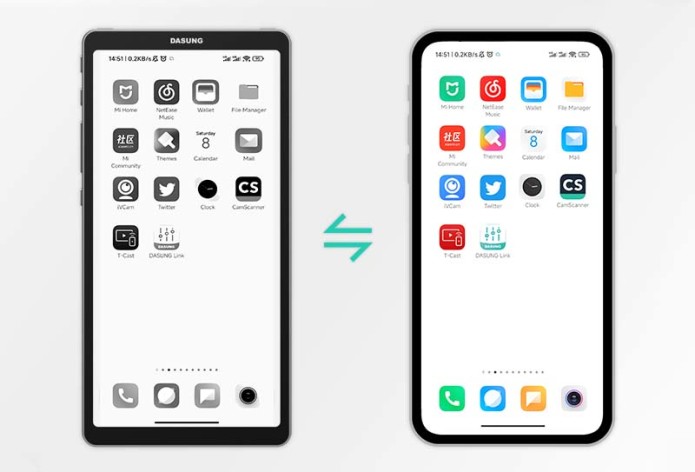 Powerful As Your Smartphone
Experience Unmatched Performance with Link. Link offers a level of performance that matches your smartphone's capabilities. Our innovative technology ensures seamless replication of your smartphone's CPU, storage, and user interface, delivering an experience that feels just like before.
Effortlessly mirror your smartphone's display with Link, swiftly opening applications and handling large files, such as 1GB PDFs, in mere seconds. What's more, as your smartphone updates, Link's power continues to grow, ensuring consistent and optimal performance you can rely on.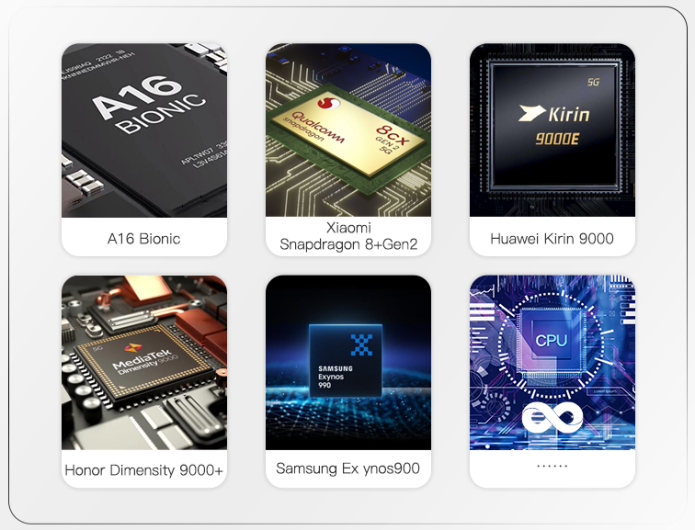 Soul Function-Reverse Touch
Like An Independent Smarthphone
Introducing Reverse Touch: A Game-Changing Innovation. Experience the exceptional capabilities of Link's reverse touch feature. It not only mirrors your smartphone's screen but also enables you to directly interact with your smartphone on the Link display.
This groundbreaking feature transforms Link into a standalone device, allowing you to use it like a smartphone without the need for constant device switching. Whether you're working, gaming, or simply browsing, reverse touch ensures a seamless and intuitive user experience, enhancing your overall interaction with Link.
Why not take a break from your smartphone and explore the possibilities of Link? With reverse touch, all the functions you need are right at your fingertips.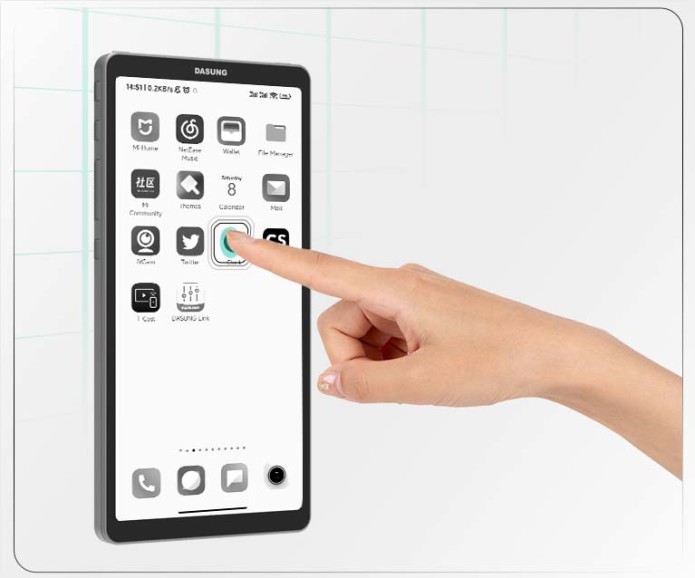 Support may vary based on the wired or wireless version, as well as the specific phone model and operating system. To ensure you make an informed purchase, we recommend referring to the selection guide "One Picture to Understand How to Choose Link," provided below.
One Picture to Understand How to Choose Link

Exclusive DASUNG Turbo High-speed Refresh Tech
With nearly a decade of dedicated innovation, we've been at the forefront of advancing e-ink displays. Our focus has been on elevating refresh rates, resulting in a remarkable enhancement in mirroring capabilities for e-ink devices. This achievement is born from the meticulous optimization of custom chips and the strategic reconfiguration of functions and algorithms pertaining to video stream signal processing, memory scheduling, and beyond. Our technology delivers an unmatched E-ink refresh speed, setting a new standard in the industry.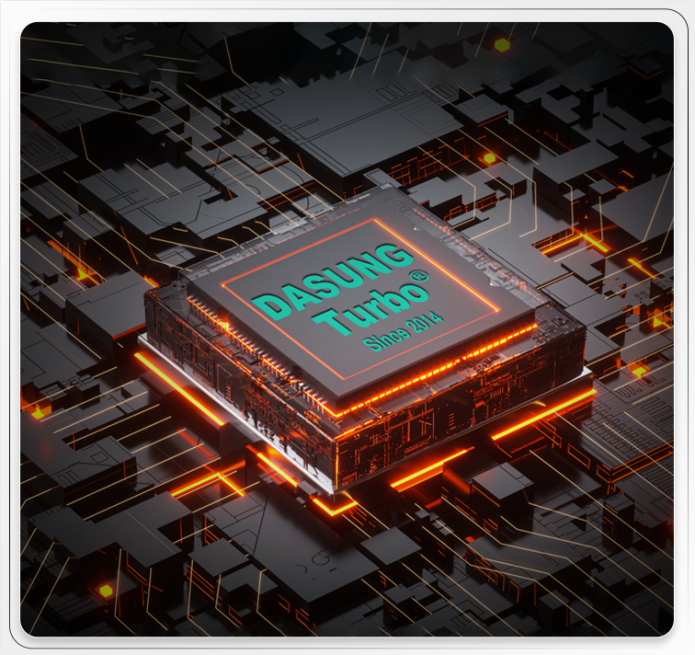 Excellent Frontlight. Fit In Every Environment
Superior Frontlight for Every Setting Experience the versatility of our innovative dual-light mode, meticulously crafted to harmonize with every environment and task. Whether you're indulging in bedtime reading or toiling at your desk, tailor the color temperature and brightness to your personal liking. Select from an array of warm and cool lights to attain optimal comfort and enhance your work productivity.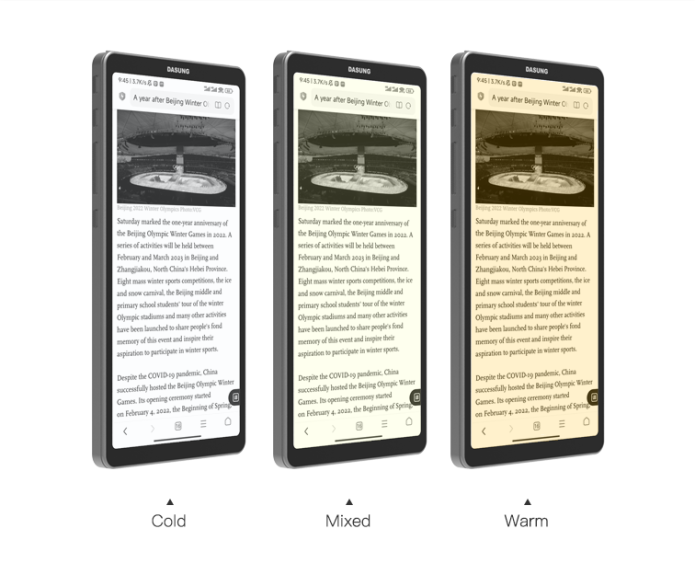 Effortless & Immediate Control with Physical Buttons 
Leveraging our proficiency in e-ink displays, we've introduced an ingenious "Image Mode." This mode facilitates three-dimensional image quality adjustments, encompassing refresh rate, contrast, and overall visual quality. This innovation guarantees the pinnacle of speed and image excellence, culminating in an unmatched user experience.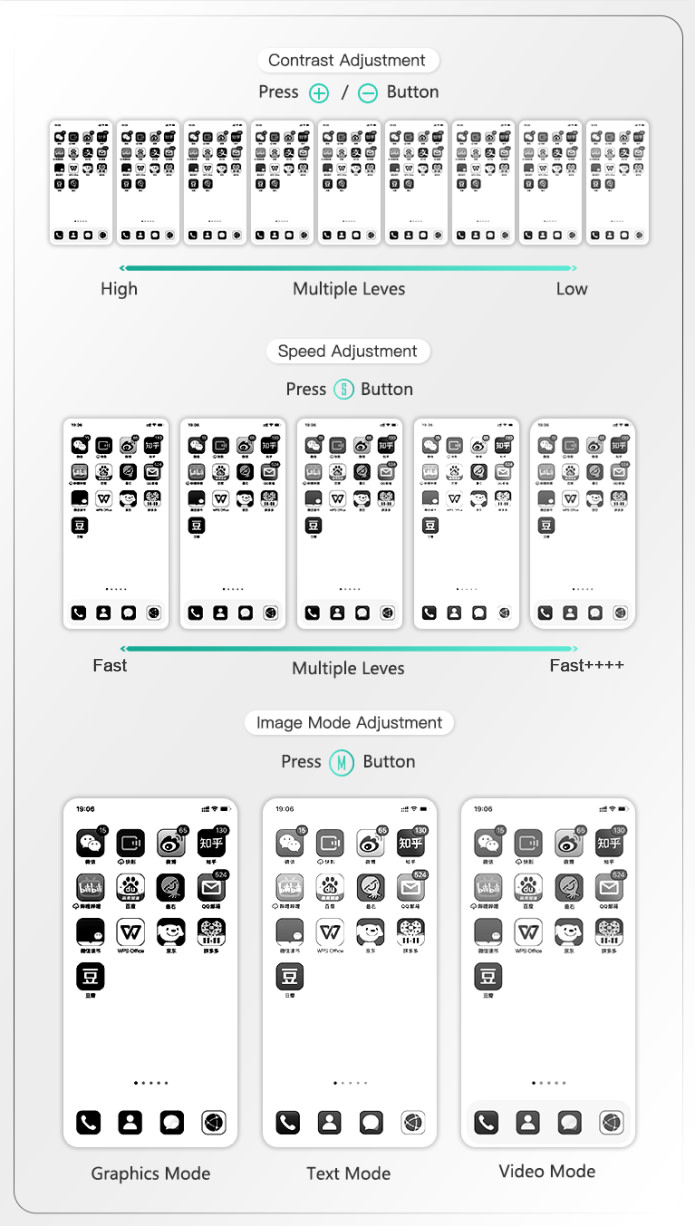 Intuitive Smart Assistant App 
Manage and navigate Link effortlessly with its user-centric interface. Revel in its astute and functional attributes, comprising unique presets for various applications and scheduled ghosting elimination. Encounter the streamlined convenience and enhanced productivity of utilizing your smartphone via Link.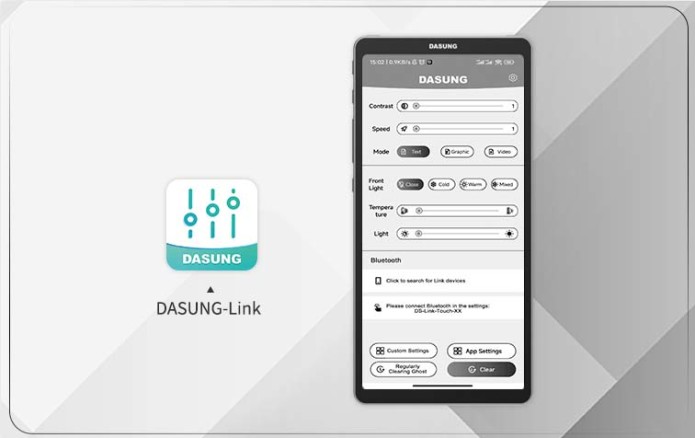 Elegance Meets Portability 
Crafted from aluminum alloy using advanced CNC integrated molding, Link boasts a sleek, lightweight, and enduring design. Choose from two captivating colors: Phantom Blue and Deep Space Gray, combining style with easy portability.
Enhanced Compatibility 
Link offers both wireless and wired versions, ensuring compatibility with a wide range of smartphones.
Link Wireless Version
Link Wired Version
Seamless Connectivity with Wired Version. The wired version of Link seamlessly connects to smartphones like Huawei, Samsung, Smartisan, and others equipped with video output capability using a Type-C data cable. Its slim profile and efficient power consumption enhance user experience. Additionally, the specially crafted "bridge power supply" feature allows for reverse charging of the smartphone.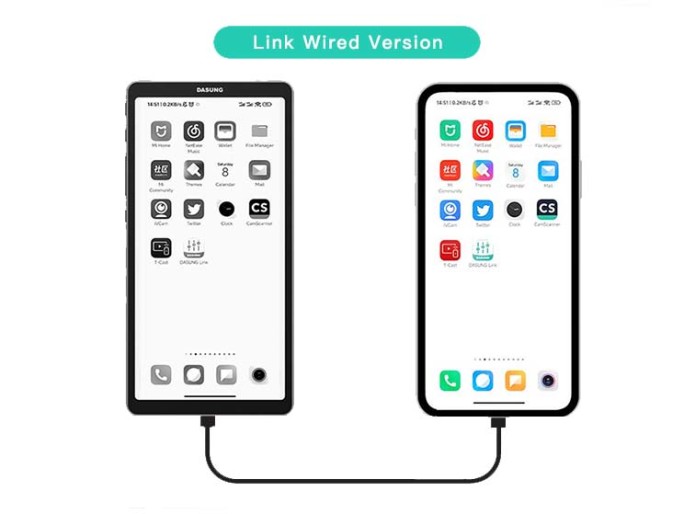 Link Wired Version Supported Smartphone Models

Enhance Your Smartphone Experience with "Link"
An Eye-Friendly Paper-like Display for Every Smartphone User
"Link" redefines smartphone usage by offering a revolutionary way to interact with your device. Not only can you mirror your smartphone's screen on "Link," but you can also directly control it, effectively transforming "Link" into a standalone phone. Whether you're browsing the web, reading documents, working on projects, or enjoying videos, "Link" delivers a seamless user experience. Backed by robust hardware and optimized software, its dual-light mode, adjustable brightness, and color temperature ensure comfort in any setting. From professionals like lawyers, teachers, and programmers to students, writers, and office workers, "Link" is the ultimate solution for minimizing eye strain and elevating smartphone usage.
Estimated Delivery: 3-5 days after shipment
Important Note: While the product price covers shipping expenses, it excludes potential customs fees. Certain countries might impose tariffs on imported goods. We recommend reaching out to your local customs authority for detailed information. Our shipping partner prioritizes safe and swift delivery, aiming to minimize customs clearance costs.