Dasung Paperlike 3 HD Unboxing Video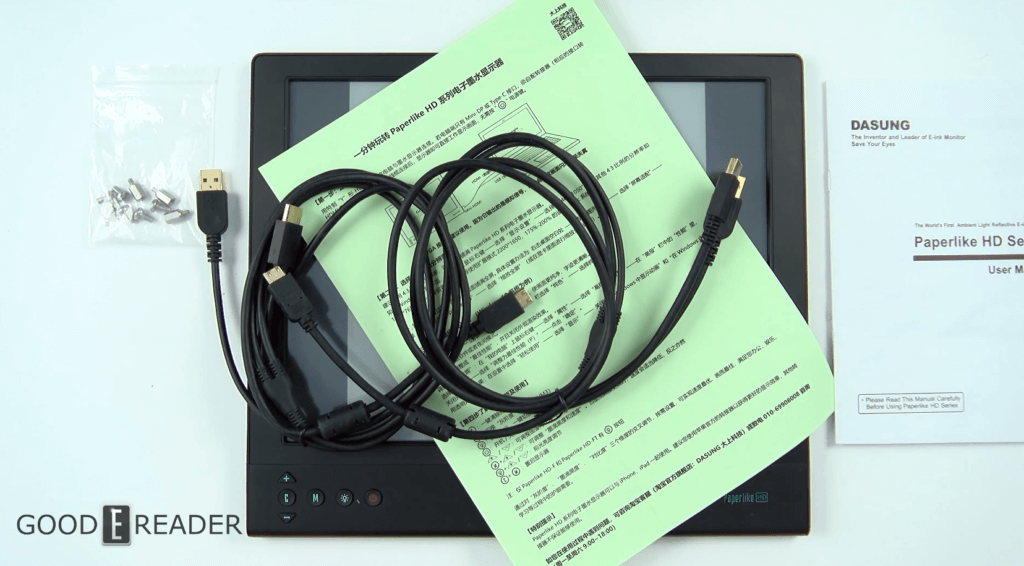 The Dasung Paperlike 3 HD is the best E INK based secondary monitor that is currently available. Not only does it pair up nicely with your PC or MAC, but also a smartphone. It has a front-lit display with LED lights that project light evenly across the screen, but also a touchscreen. It does not have an internal battery, storage or anything else, it is a monitor. In this unboxing video we give you a sense of the retail packaging, what comes inside the box and the overall industrial design of the Paperlike 3 HD.
This device features a giant 13.3 inch E Ink Mobius display with a maximum resolution of 2K, which means you will likely get a resolution of 2,200 x 1650, if your video card supports it. This is the first Dasung model that has a touchscreen, so you use your finger to click on things or to simply pinch and zoom.
The front-lit display has over a dozen LED lights on the bottom of the bezel that project light evenly across the screen. This was designed to illuminate the screen, but not have light shining in your eyes like a traditional LCD or OLED lighting system from a smartphone or tablet.
I believe this monitor makes sense for people who have vision difficulties, while staring at a tradition LCD, LED or OLED screen for long periods of time. E Ink is easy on the eyes, because the tech does not have a backlit system, it is the closest you can get to real paper. The 13.3 inch screen makes PDF files show up in A4, which means you do not even need to pinch and zoom to read them in their native format.
The retail packaging of the Dasung Paperlike HD is fairly simplistic. The box features a primarily yellowish hue, that mentions the name of the device, but no pictures, the back is plain as well. Really, the design of the box is very inspiring. Inside the box is the Dasung Paperlike, warranty information, a quick start guide and a user manual. There are a series of HDMI to Micro HDMI cables. This is for plugging the Dasung into your computer or smartphone. This series does not have any drivers, so you can easily connect it.
The Paperlike 3 HD is black and the screen is sunken and not flush with the bezel. On the bottom right is the product logo, and the Dasung product name. On the left are 4 buttons, a power button, front-light toggle switch for A2 mode and a scroll button. The back has two speakers on it and screws for a vesa mount.
https://goodereader.com/blog/electronic-readers/dasung-paperlike-3-hd-unboxing-video