Reviews from our Taobao customers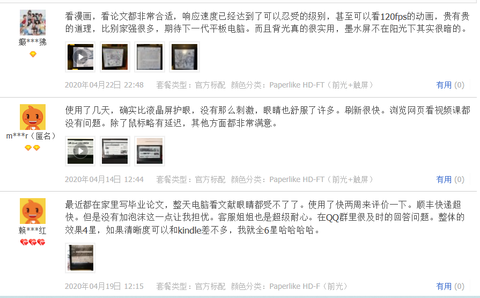 Some reviews from our Taobao customers, I translate some, take a look😁
1)It's very suitable to watch comics and read papers, I can accept the response speed . You can even watch 120fps animation, it's worth the price, is much better than the other similar products and I'm looking forward to the next generation tablet "Not-Ereader"
2)Using it for a few days, it's indeed more eye-protective than LCD screen, it's less irritating and my eyes are much more comfortable. It refreshes pretty quickly and I can browse web and watch video lessons well, despite slight delay of the mouse, I'm very satisfied with the other aspects.
3)I've been writing my papers for my college graduation at home recently, and I can't stand using my eyes watching LCD screen all day long, after using DASUNG monitor for 2 weeks, I can't wait to review, it helps me a lot and eases the pain of my eyes. The delivery and customer service are really good and give me quick response when I raise questions. I'd like to give full star good review.