Why Do We Need Paperlike E-ink

 

Monitor?
■  Do your eyes hurt when you look at a computer screen?  
■  Do you have children or elderly relatives who are sensitive to the glare?      
■  Are you an office worker who stares at a computer 10 hours a day?
In the information age, we look at our computers and smartphones for more than 12 hours a day. Our eyes are easily exposure to the damage caused by traditional LCD displays. Strong light, flash and blue light make our eyes dry, inflamed, deeper myopia, dizziness and even cause headache. We urgently need a paper-like monitor to save our eyes.

E-ink is the world's best ambient-light-reflecting display technology. lt drives ink droplets inmicrocapsules by voltage to make natural, clear images on the screen, illuminated by lighting the environment rather than a backlight.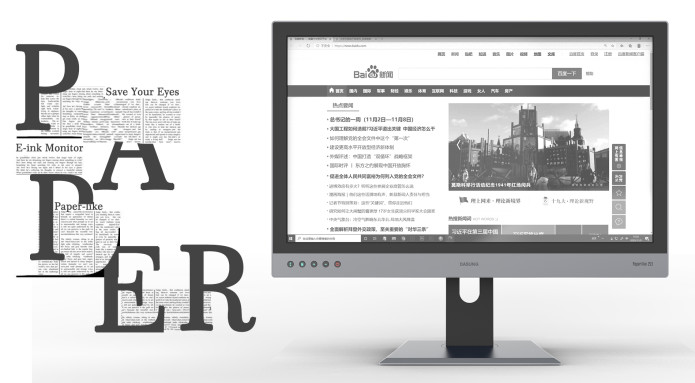 If you are sensitive to bright lights or have headaches working with LCD displays, this is the monitor you've been waiting for. DASUNG E-ink Monitor Paperlike 253 is easy on the eyes and larger than ever, offer your incredible using experience!
Who Need Paperlike 253
Lawyers, teachers, students, programmers, traders, writers, editors, office workers, the elderly, people with visual impairment (dry eye, myopia, macular disease etc.)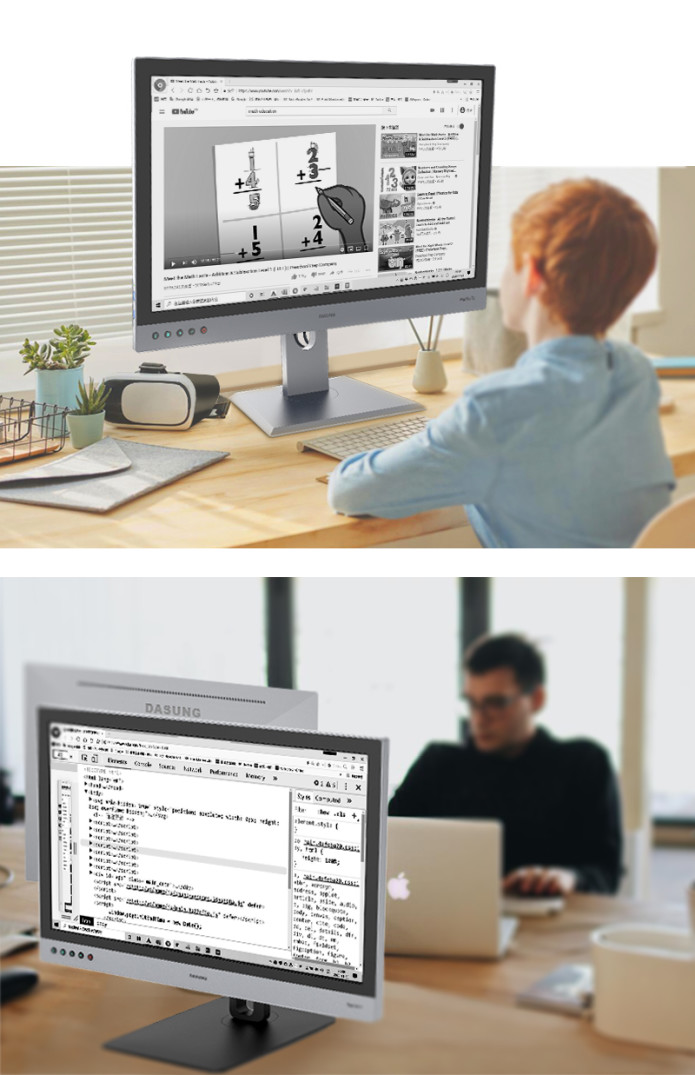 25.3" Large Size E-ink Screen
Paperlike 253 has super large size 25.3" retina display, high contrast, fine quality, no flashing and no glare. It's the perfect eye-saver. An unprecedented eye-friendly and user- friendly E-ink product that featuring nearly 4 K paper size which demonstrates strong visual shock that
the vision and thoughts of users can wander more freely and enjoy the exprience of large size screen. You will be enjoying the incredible using experience.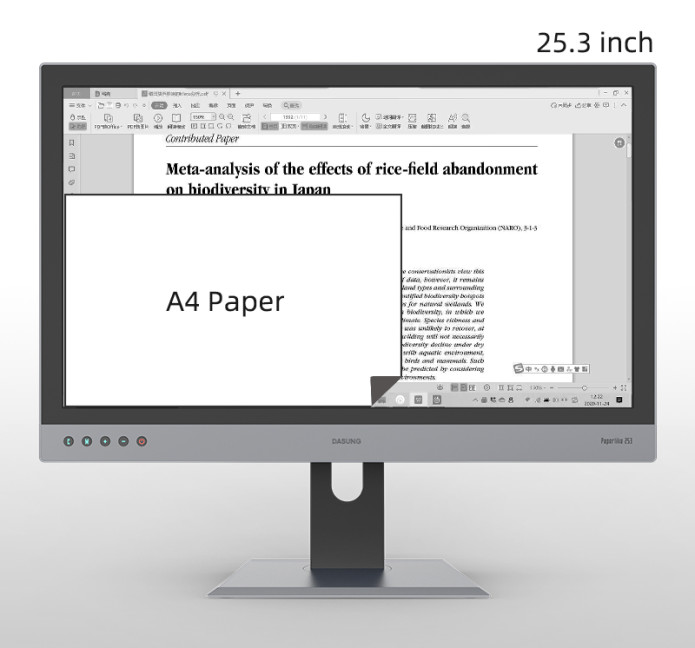 Professional Immersive Office Work Monitor
Editing word documents, programming, or doing internet research, you can easily open two applications at a time due to its sheer size. Paperlike 253 can display horizontally or vertically and mirror or extend the content on your primary computer screen. Support windows, Mac os, Linux and other mainstream operating systems. Work with split-screen and multi-window operations. Multiple tasks to be performed simultaneously. Highly improve your work efficiency. Totally different experience.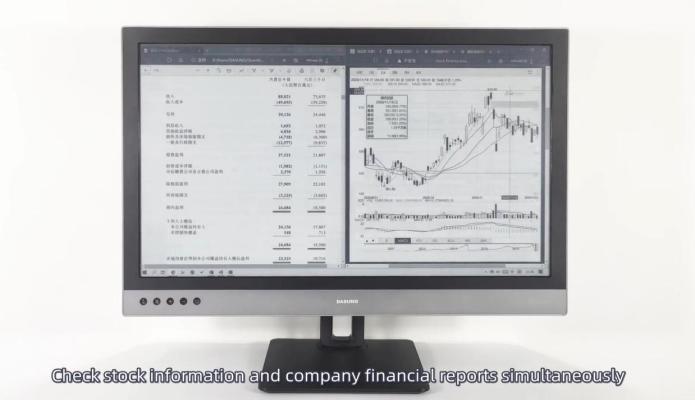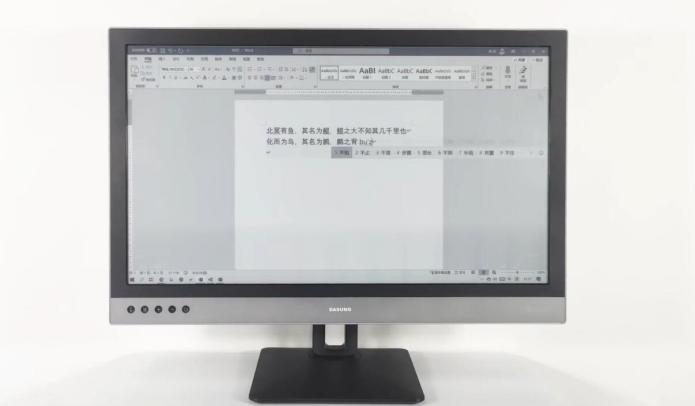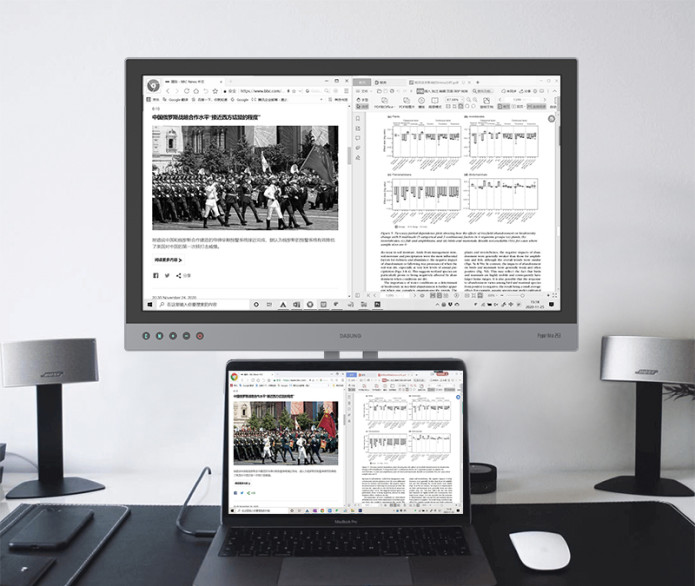 DASUNG Turbo
We optimized our custom chip to provide unmatched E-ink refreshing speed by reconstructing the video stream signal processing, memory scheduling and other functions and algorithms.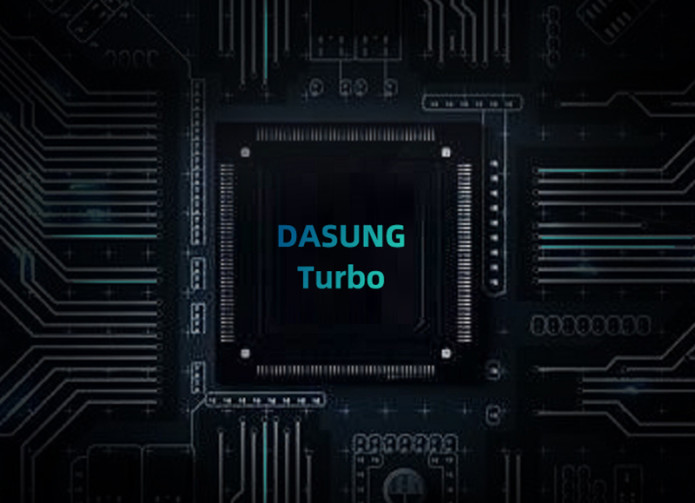 Advanced image algorithm & multi-dimensional adjustment mechanism
DASUNG is committed to optimizing the quality of E-ink for more than seven years. Paying attention to every detail. Respecting each of our users. Through the cross adjustment of the three dimensions of "grayscale", "ink drop blackness" and "contrast", the speed and image quality can be optimized, which can meet your different needs in office, entertainment and learning to protect your eyes well.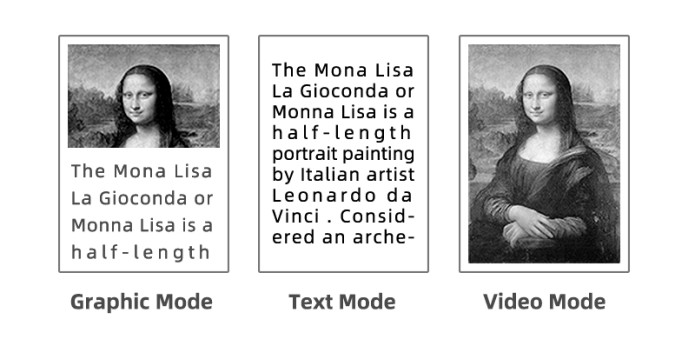 Easy to operate. Compatible with most devices
Three image modes allows you to personalize it by selecting the appropriate image quality to achieve different display effect. Professional & Multiple ports (DP, HDMI, Type-c ports etc.), make it compatible with most devices, easy to connect & operate.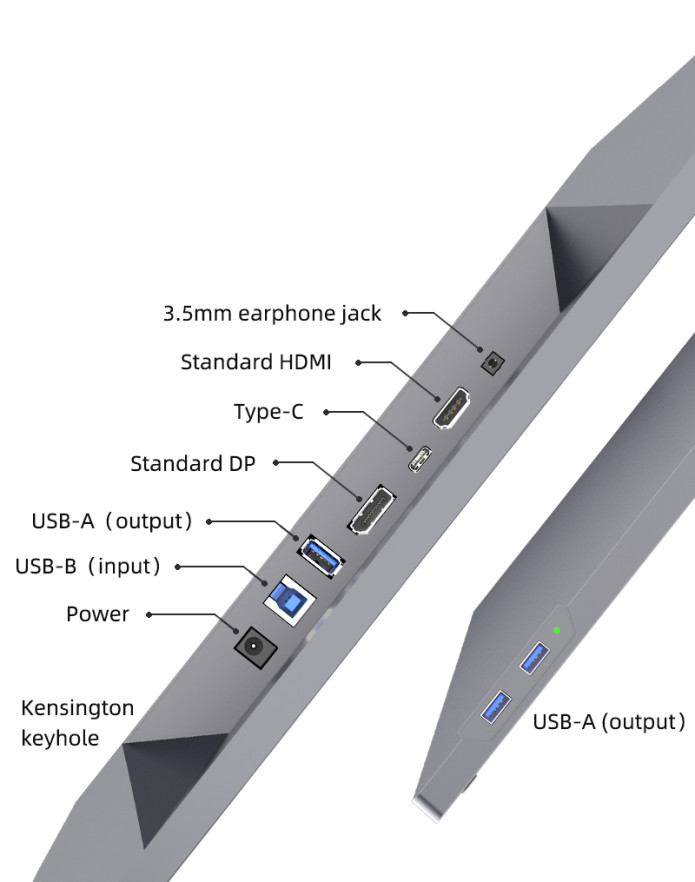 Compatible with 100*100mm VESA Hole Stand
We have elaborately selected a height adjustable 100*100mm VESA stand for customers.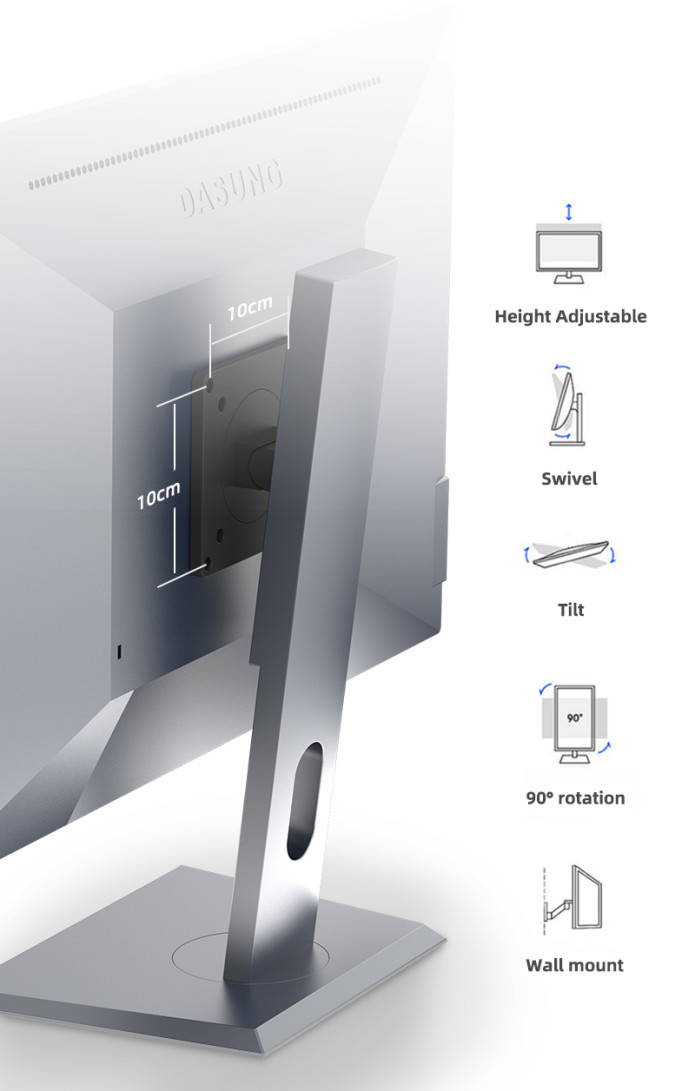 Rare Aluminum Alloy Shell

Specifications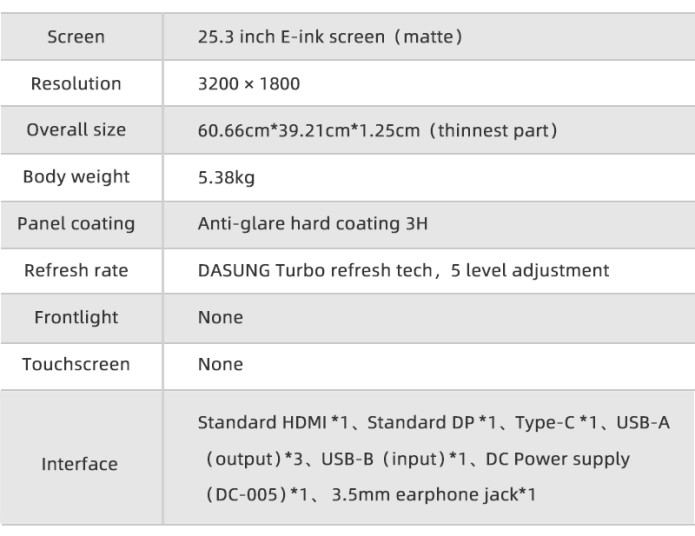 What's In The Box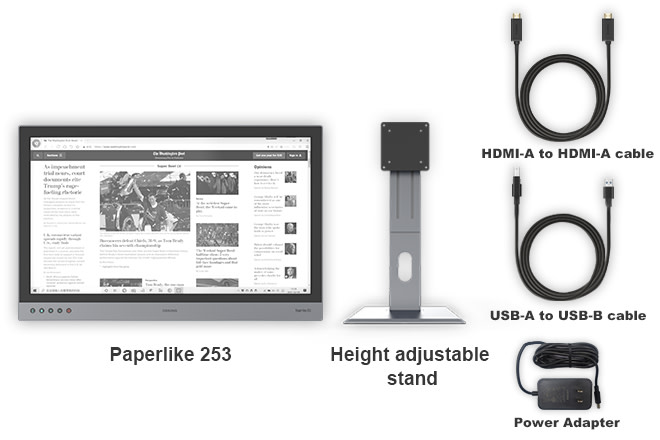 About DASUNG
DASUNG was established in March 2014, as a national high-tech enterprise, Zhongguancun Golden Seed Enterprise, a well-known new concept application creator in the E-ink industry. Adhering to the spirit of craftsmanship, we have focused on the development of E-ink Monitors for 7 years. We have absolute leading edge in how to quickly drive E-ink screen, control ghosting, and control adaptation systems. We made several E-ink products which are known as "black technology." In December 2014, we released the world's first 13.3" E-ink monitor Paperlike, and was invited to participate in the 2015 CES in the United States. In 2019, we released 7.8" E-ink tablet "Not-eReader". So far, we have got more than 160 media coverage in over 20 languages. We have sold E-ink products to over 78 countries or regions around the world. Paperlike 253 integrates all the innovations of our latest technologies, from size to kernel firmware, so far it's unique globally.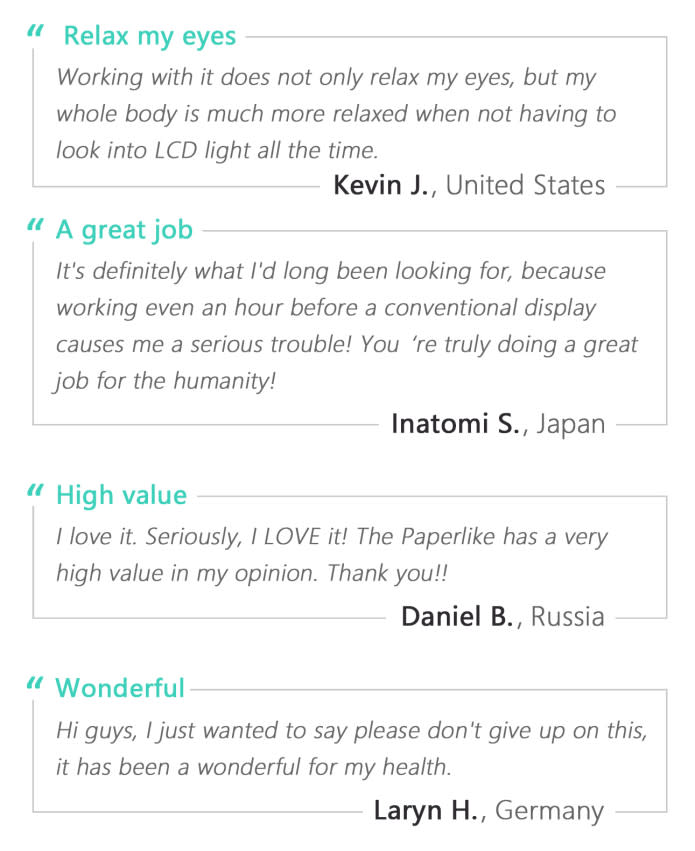 Who's talking about us 


Timeline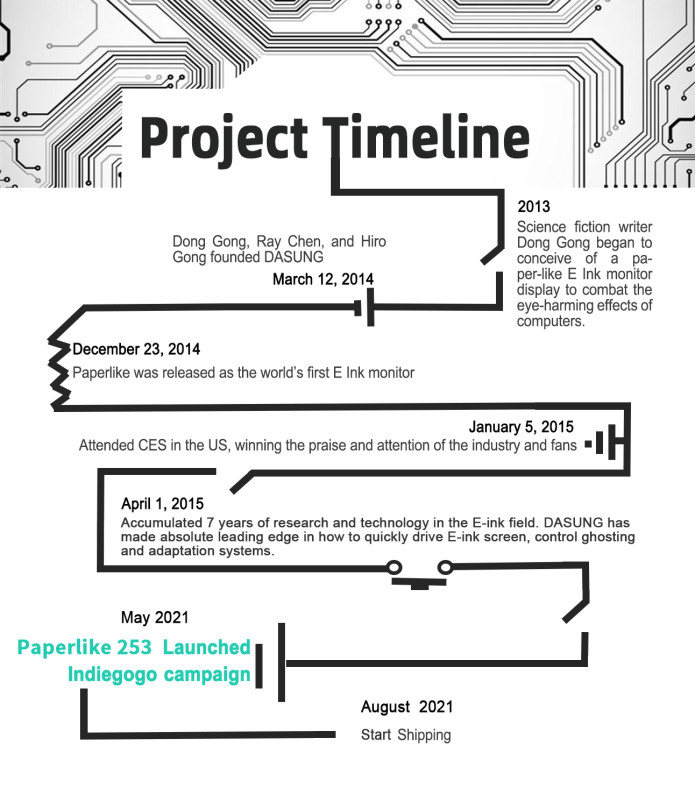 Please share this with your friends and family!
Users yearn for and expected eye-friendly E-ink product. Creating a new era of large screen. Immersed in it with joy and happiness.